Recommended Global Pharma Marketing & Industry Conferences
Asia Pacific & Middle East
Pharma Audit 2018
Welcome Message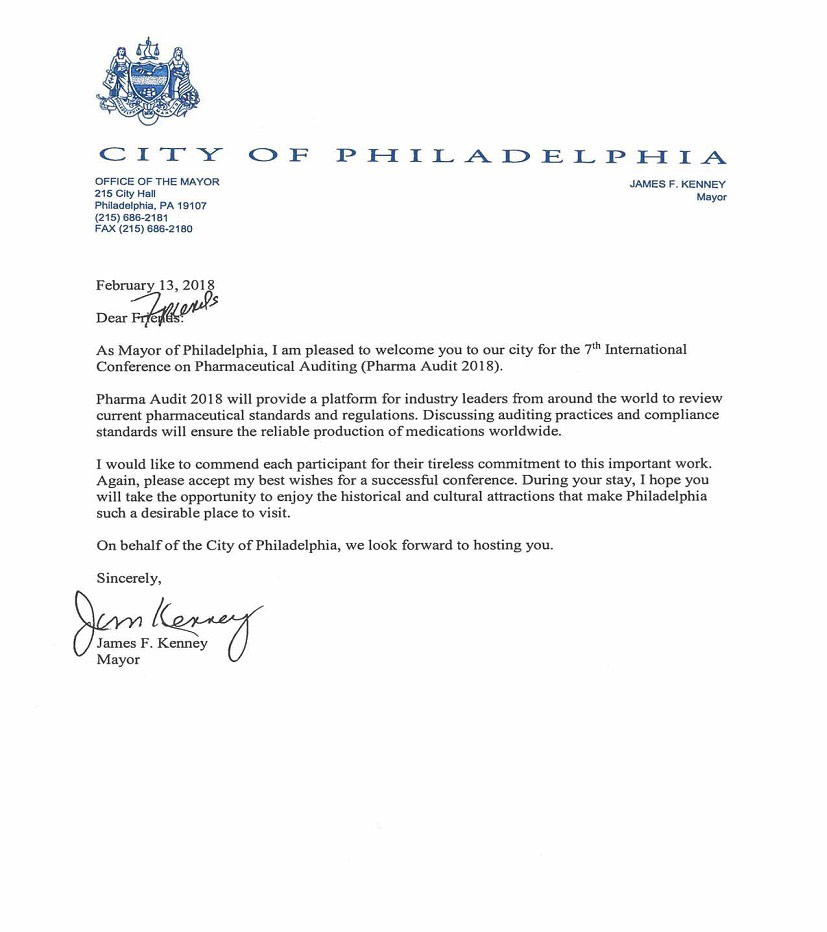 About Conference
Pharma Audit 2018 welcomes attendees, presenters, and exhibitors from all over the world to Philadelphia, Pennsylvania, USA. We are delighted to invite you all to attend and register for the "7th International conference on Pharmaceutical Auditing (Pharma Audit 2018) which is going to be held during June 06-07, 2018. The organizing committee is gearing up for an exciting and informative conference program including plenary lectures, symposia, workshops on a variety of topics, poster presentations and various programs for participants from all over the world. We invite you to join us at the Pharma Audit 2018, where you will be sure to have a meaningful experience with scholars from around the world. All the members of Pharma Audit 2018 organizing committee look forward to meet you at Philadelphia, Pennsylvania, USA.
Why to attend
Understand the challenges that submitters encounter during the preparation, filing, and management of regulatory submissions
· Explore the latest developments in ISO IDMP standards
· Impact for the future of Product Quality Review?
· Measuring and Monitoring of Quality Assurance: Regulatory Expectations
· To obtain current information about FDA activities
· Benchmark your regulatory strategies with the other leaders
Who should attend
Ø Production

Ø Quality assurance

Ø Quality control

Ø Regulatory affairs

Ø Auditing in the pharmaceutical

Ø Biopharmaceutical industry

Ø Supervisory personnel

Ø Managers

Ø Quality and regulatory personnel

Ø Health Care Professionals

Ø R&D Professionals

Ø Methodologists

Ø Clinical Researchers

Ø Principal Investigators

Ø Assistant Professors

Ø Scientists

Ø Research Scholars

Ø Regulatory professionals

Ø Medical Directors

Ø Senior Professors
Key features Pharma Audit 2018:
Pharma Indutry Experts Exposure
Keynote Speakers
Plenary Speakers
Exhibitors
Innovative Educational Sessions
Workshops
B2B Meetings
Importance and scope
The goal of an audit is to express an opinion on the person, organization, system etc. Auditing is a critical function within a pharmaceutical company, under evaluation based on work done on a test basis. Audits are performed to ascertain the validity and reliability of information, also to provide an assessment of a system's internal control. A company that makes medications today must be able to prove that it does so with absolute reliability, under optimal secure conditions, and with extreme uniformity to allow for exact reproduction. Pharmaceutical auditing expertise includes writing and review of validation policies, guidelines and SOP from design qualification to performance qualification steps.
The Auditors responsibility is to express an opinion on these standalone financial statements based on the audit, taken into account the provisions of the Act, the accounting and auditing standards and matters which are required to be included in the audit report under the provisions of the Act and the Rules made there under. An audit involves performing procedures to obtain audit evidence about the amounts and the disclosures in the financial statements. The procedures selected depend on the auditor's judgment, including the assessment of the risks of material misstatement of the financial statements, whether due to fraud or error. In making those risk assessments, the auditor considers internal financial control relevant to the Company's preparation of the financial statements that give a true and fair view in order to design audit procedures that are appropriate in the circumstances, but not for the purpose of expressing an opinion on whether the Company has in place an adequate internal financial controls system over financial reporting and the operating effectiveness of such controls.
Sessions/Tracks
ConferenceSeries LLC Ltd is a renowned organization that organizes highly notable conferences throughout the globe. Currently we are bringing forth "7th International conference on Pharmaceutical Auditing." Pharma Audit 2018 is scheduled during June 08-09, 2018 at Philadelphia, Pennsylvania, USA. The conference invites all the participants across the globe to attend and share their insights and convey recent developments in the field of Pharmaceutical Audit.
Track 1: Analytical method Quality Auditing
Quality assurance (QA) and independent audit is critical in the pharmaceutical industry to assure reliability of the products, adherence to approved specifications, and conformation of current good manufacturing practices (cGMP) to regulation. Manufacturers must establish a quality control unit that is responsible for quality-related activities required by the regulations. Quality is determined by whether the firm complies with GMP requirements and makes scientifically justified decisions. Pharmaceutical companies are now taking a proactive stance with the new GMP Systems approach, more effective internal auditing and increased regulatory awareness throughout the company.
Track 2: Regulatory Affairs
Administrative issues is a relatively new calling which created from the yearning of governments to ensure general wellbeing by controlling the security and viability of items in ranges including pharmaceuticals, veterinary drugs, therapeutic gadgets, pesticides, agrochemicals, beautifying agents and correlative meds. Regulatory Affairs is included in the improvement of new restorative items from at an early stage, by coordinating administrative standards and by get ready and presenting the pertinent administrative dossiers to wellbeing powers. Regulatory Affair effectively required in each phase of improvement of another prescription and in the post-advertising exercises with approved therapeutic items. The Regulatory Affairs office is a vital part of the hierarchical structure of pharmaceutical industry. Internally it liaises at the interphase of drug development, manufacturing, marketing and clinical research. Externally it is the key interface between the company and the regulatory authorities.
Track 3: Quality Management System in Testing Laboratories
Testing laboratories provide vital services to their customers who expect accurate results produced at appropriate time and at reasonable cost. Adoption of the quality management system (QMS) by a laboratory would facilitate achieving these goals. The International Organization for Standardization (ISO) has developed an international standard, known as ISO 17025: 2005 'General requirements for the competence of testing and calibration laboratories', for the accreditation of testing laboratories to a wide range of testing environments. Compliance with this quality standard requires that the laboratory shall establish and maintain a systematic way to ensure and improve its performance. Compliance with the ISO 17025 provides a unique focus for assuring implementation of the QMS and technical competence of a laboratory.
Track 4: Importance of Audit in Pharmaceutical Industry
International Organization for Standardization (ISO) 9000 requirements do not have the same status of "the law" in the U.S. as do requirements listed in the Code of Federal Regulations (CFR). Because 21 CFR 210 and 211 have legal status, the U.S. Justice Department has extensive powers to ensure compliance. For example, product in the marketplace can be seized, fines can be levied, and personal liability can be assigned. So, management must understand that auditing must be taken seriously, and the requirements listed are just that – requirements. While audits are the common place in the pharmaceutical industry, the preparedness for those events varies. The companies that develop a risk-based approach to audits are able to remain competitive while meeting quality and government compliance standards on a regular basis. Conversely, the companies that have not implemented strong processes are putting themselves at risk for non-compliance. According to the Federal Food, Drug and Cosmetic Act, "Registered domestic drug establishments shall be inspected by the FDA at least once every two years." Under some conditions the inspections may be even more frequent, As regulations become more stringent, regulatory authorities are likely to step up audits which is even more reason for companies to be prepared.
Track 5: Quality Assurance Audits in Pharma Industries
The quality of pharmaceuticals has been a concern of the World Health Organization (WHO) since its inception. The setting of global standards is requested in Article 2 of the WHO Constitution, which cites as one of the Organization's functions that it should "develop, establish and promote international standards with respect to food, biological, pharmaceutical and similar products." The supply of essential medicines of good quality was identified as one of the prerequisites for the delivery of health care at the International Conference on Primary Health Care in Alma-Ata in 1978. Similarly, the Conference of Experts on the Rational Use of Drugs, held in Nairobi in 1985, and WHO's Revised Drug Strategy, adopted by the World Health Assembly in May 1986, identified the effective functioning of national drug regulation and control systems as the only means to assure safety and quality of medicines.
Track 6: Auditing Deviations, Product Complaints, and CAPA Systems
Among the essential elements of a well-established Quality Management System (QMS), deviation handling plays a key role in assuring quality in products and by contributing to continuous improvement. Manufacturers are expected to "establish processes and define appropriate controls for measurement and analysis to identify nonconformities and potential nonconformities, defining when and how corrections, corrective actions, or preventive actions should be undertaken. These actions should be commensurate with the significance or risk of the nonconformity or potential nonconformity. GMPs have evolved as a consequence and of the inherent risks to the product during manufacturing operations in order to prevent significant deviations. More recently, Quality Risk Management (QRM) has been proposed as a strategy to manage risk in a systematic and documented manner, and has become a requirement of modern GMPs as recommended by international standards like WHO or ICH.
Track 7: Goals and Strategies to Meet Audit Requirements
FDA cannot meet the goals of the Initiative alone. The success of the Initiative has been predicated on active participation and input from experts in industry, academia, government, and consumer groups. Emphasize the importance of the Initiative and look forward to many more improvements in regulatory processes for ensuring product quality. The following organizational components of FDA have been actively involved in working toward this modernization over the last four years: ORA, Center for Biologics Evaluation and Research (CBER), Center for Drug Evaluation (CDER) and the Center for Veterinary Medicine (CVM), along with various offices within the Office of the Commissioner. All of these organizations continue to promote the goals and objectives of the Initiative and are dedicated to continuing to improve the regulation of pharmaceuticals in the 21st Century.
Track 8: Audit Planning to Ensure Maximum Effectiveness and Efficiency
Laboratory activities are one of the main functions in Pharmaceutical Industry. In the current time, analytical chemists are involved in several audits or inspections either as an auditor/inspector or as someone being audited / inspected. Understanding the auditing process has proved to be beneficial to handle your internal and external audits. Effective auditors can help to achieve and maintain quality management system registration as well as identify opportunities to improve overall performance.
Track 9: Pharmaceutical Auditing for OTC Drugs
Non-prescription medicines, commonly known as over the counter or OTC medicines, are used for treatment. Sales of over the counter medicines in pharmacy and grocery outlets reached £2.45bn in 2017, up by £52.3m compared with the previous year. In the late 1980s the government fuelled the over the counter market by making it easier to reclassify certain medicines from prescription only status to allow over the counter sale in pharmacies. Although all non-prescription medicines are required to hold a product licence, few have been evaluated in formal clinical trials in the setting in which they will be used. As a result many non-prescription products sold by pharmacists have been criticised for their lack of effectiveness. There are three legal categories of medicines prescription only medicine (POM), pharmacy medicine (P), and general sales list medicine (GSL); the last can be sold from outlets including supermarkets and drugstores. The principle of a class of medicines whose sale requires the supervision of a pharmacist is not unique to the United Kingdom.
Track 10: Clinical and Bioanalytical laboratory Audits
One of the critical tasks for a Good Laboratory Practices (GLP) nonclinical laboratory study or Clinical Trial team is choosing a bioanalytical laboratory vendor that will meet their study needs. A well-managed bioanalytical study with proper Sponsor oversight will go a long way to ensure the generation of accurate data and quality data. Many companies have a Research & Development Quality Unit that includes people with auditing skills in Good Clinical Practices (GCPs) and Good Laboratory Practices (GLPs). Many R&D auditors have a background in what is required to audit a bioanalytical laboratory for either Clinical trials, GLP, GLP-Like or best laboratory practices.
Track 11: GMP in Food Industry
The Quality control in typical food processing has a significant role in assuming a high quality, safe and nutritious food supply for the public, for their good health and for the economic benefits derived from trade of safe and high quality food. Quality control conference also plays a major role in food industry. Hazard Analysis & Critical Control Points (HACCP) is a management system in which food safety is addressed through the analysis and control of biological, chemical, and physical hazards from raw material production, procurement and handling, to manufacturing, distribution and consumption of the finished product. Food, Drug, and Cosmetic Act is a set of laws giving authority to the US-FDA to oversee the safety of food, drugs, and cosmetics. Cleaning, disinfection and hygiene should be strictly maintained in food industry.
Track 12: Clinical Audit in Pharmaceutical Development
Clinical quality assurance audits, performed to ensure that scientific and ethical standards are met in the conduct of clinical trials, are conducted using proprietary computerized audit tools, customized to each project, so that GCP audit findings can be efficiently and consistently collected, analysed and reported. This focused systems-oriented approach to quality assurance is designed to assess and validate study conduct and documentation to ensure regulatory compliance and conformance to protocol, SOP and contractual requirements. Methodology should evaluate the activities and documentation underlying study data integrity and Good Clinical Practice (GCP) ethical and regulatory requirements.
Track 13: Quality Assurance, Quality Control and Audit
Quality control (QC) is a procedure or set of procedures intended to ensure that a manufactured product or performed service adheres to a defined set of quality criteria that meets the requirements of the client or customer. A major aspect of quality control is the establishment of well-defined controls. These controls help standardize both production and reactions to quality issues. The role of Quality Impact Assessment & effectiveness checks is an essential operation of the pharmaceutical industry. To Perform Quality Control process of Project Management several quality control tools and software's are required. Quality control also plays a major role in analytical method development.
Market Analysis
The global pharmaceutical market is estimated to reach US$ 1.3 trillion by 2018, growing at a CAGR of 4-7% (between 2014 and 2018), an increase of US$ 290-320 billion. The growth of developed markets will be driven by the US, Japan and five major European markets (Germany, France, Italy, Spain and the UK). The contribution of pharmerging markets in the growth pie is expected to increase over the next five years and account for nearly 50% of absolute growth in 2018. Demographic trends will be a significant driver of global demand for pharmaceuticals in the next five years. Pharmaceutical spending in the developed markets stood at approximately US$ 620 billion in 2013. It is estimated to grow at a compound annual growth rate (CAGR) of 3-6% during 2014-2018 to reach US$ 766-796 billion by 2018. Among the developed markets, the US will see the largest per capita spending increase from 2013 to 2018. USA: It is the world's largest pharmaceutical market, with pharmaceutical spending at US$ 340.0 billion in 2013. It is estimated to grow at a CAGR of 5-8% during 2014-18 to reach US$ 450-480 billion by 2018.
Past Conference Report
GMP Submit 2017 Report
GMP Submit 2017
We gratefully thank all our wonderful Keynote Speakers, Speakers, Conference Attendees, Students, Media Partners, Associations, Sponsors and Exhibitors for making GMP Submit 2017 Conference successful!
The 6th International Conference and Exhibition on GMP, GCP & Quality Control, hosted by the ConferenceSeries LLC Ltd was held during September 25-26, 2017 Chicago, Illinois, USA based on the theme "Manufacturing and Quality Guidelines: Its Importance Creates its Need!". Benevolent response and active participation was received from the Organizing Committee Members along with Scientists, Researchers, Students and leaders from various fields of GMP, GCP, Quality Control and pharmacy, who made this event a grand success.
ConferenceSeries LLC Ltd expresses its gratitude to the conference Moderator, for taking up the responsibility to coordinate during the sessions. We are indebted to your support.
Similarly, we also extend our appreciation towards our Chairs of the sessions for 2 days.
The conference was initiated with the Honourable presence of the Keynote forum.
The conference was initiated with the honorable presence of the Keynote forum. The list includes:
· Mohammed R Khan, Synergex Consulting, Canada
· Boyd L Summers, BL Summers Consulting LLC, USA
· Kenneth Christie, VTS Consultants, Inc., USA
· Danuta Radzioch, Mcgill University and Laurent Pharmaceuticals, Canada
· Rashid Mahmood, Surge Laboratories Private Limited, Pakistan
The meeting reflected various sessions, in which discussions were held on the following major scientific tracks:
Good Manufacturing Practices: The Gap within
Current Regulations and Quality Standards
Current GMP Guidelines (cGMP)
The Role of c in cGMP
Good Clinical Practices & Good Laboratory Practices
Quality Control
Quality Assurance
Validation
Contract & Sterile/Aseptic Manufacturing
Storage, Distribution, Transportation
Formulation Development
GMP in Food Industry
GMP in Microbiology and Biotechnology
Softwares in GMP and GCP
Clinical Affairs & Regulatory Strategies Implementation
Excipient Qualification and Supply Chain Controls
Entrepreneurs Investment Meet
ConferenceSeries LLC Ltd offers its heartfelt appreciation to organizations such as Pharma Voice, Event listing sites and other eminent personalities who supported the conference by promoting in various modes online and offline which helped the conference reach every nook and corner of the globe. After the immense idealistic reaction, we are delighted to announce our forthcoming conference "7th International Conference on Pharmaceutical Auditing" scheduled during June 08-09, 2018, 2018 at Philadelphia, USA.
We anticipate your precious presence at the Pharma Audit 2018 Conference.
Let us meet again @ Pharma Audit 2018
Visa Application
For conference attendance and participation only Business Visa should be applied. Contact your nearest travel agent/visa information center/US Embassy for the correct application form.
All visas for visiting US shall be processed by respective authorities only upon submission of proper documents through proper channel.
In case of non-furnishing of documents, non-adherence to guidelines visas shall be cancelled by respective authorities.
The minimum supportive documents that might be required while applying for US visa include:
Letter of invitation,
Abstract acceptance letter (if speaker),
Registration payment receipt,
Accommodation confirmation letter issued under conference letter head.
For letter of invitation and accommodation confirmation, payment of registration fees and accommodation charges is a pre-requisite.
Mandate documents required from conference secretariat should be obtained only through Ave Hershey or Will Thomas.
For more details please contact
Ave Hershey
Program Manager
Pharma Audit 2018
T: +1-702-508-5200
To Collaborate Scientific Professionals around the World
Conference Date June 08-09, 2018
For Sponsors & Exhibitors
Useful Links
Past Conference Report